TRASHED AT TERROIR
PRESENTED BY SOBEYS

TRASHED at Terroir will feature dishes created by 10 chefs from across North America.
Each chef will rescue unexpected ingredients - ingredients that are often bound for the bin - to create delicious dishes. These chefs are currently implementing innovative food waste reduction practices in their own restaurants,
some of which will be highlighted in their unique Terroir creations.
SUPERPOINT
TORONTO, ONTARIO
Meghan will be rescuing day-old bread to create rye ice cream with sourdough amaretti cookies and toasted sweet bread crumbs
MAPLE LEAF SPORTS + ENTERTAINMENT
TORONTO, ONTARIO
Chris is rescuing ugly produce and leftover food from events at Toronto's Scotiabank Arena to create Gnocchi with Romesco Sauce.
THE SKEENA BAR
TERRACE, BC
George will be rescuing brown avocados and wilted cucumbers to create seal tartar, an homage to his great-grand father and his Inuit friends.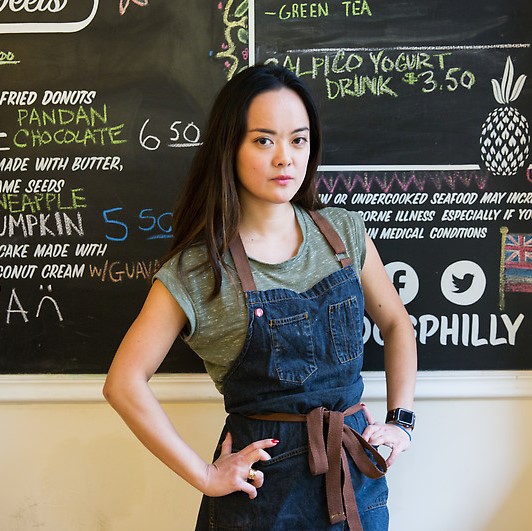 POI DOG
PHILADELPHIA, USA
Kiki and her collaboator Abbe Stern - founder of Fooding Forward here in Philadelphia, an initiative that rescues unused bread from restaurants and hotels and donates it to homeless shelters - will be rescuing day old bread and tuna blood lines to create ahi bloodline latkas.
GEORGE BROWN COLLEGE
TORONTO, ONTARIO
John will be rescuing sheep's stomach, lamb heart and lungs to re-create the Rustic Haggis Bread Pudding from his submission to the Bread is Gold cookbook.
FREELANCE CHEF
TORONTO, ONTARIO
Rossy will be rescuing corn husks, silk and cobs, as well as onion and garlic peels to create a spicy Smoked Corn Husk Soup with fried silk garnish.
BISTRO '67
WHITBY, ONTARIO
Anne will be rescuing 2-day old sandwiches from PANTRY at Durham College to create "Chicken and Waffles" with Honey Garlic Chicken Gravy.
STOFA RESTAURANT
OTTAWA, ON
Jason will be rescuing lobster shells to create Chicken Bacon Ramen with a Lobster & Chicken Dashi Brodo.
BACKHOUSE
NIAGARA ON THE LAKE, ONTARIO
Ryan will be rescuing egg whites, garlic ends and peach tree trimmings to create Wood-Fired Mushrooms on Toast with Fried Egg white Mousse & Black Garlic "Caviar".
PAINTBOX BISTRO + CATERING
TORONTO, ONTARIO
Barry will be rescuing potato peels and kale stems to create a fried potato peel garbage poutine with kale stem pesto.

THE 2019 TERROIR LUNCH PROGRAM IS GENEROUSLY supporTED BY

THE PEOPLE'S CHOICE
PRESENTED BY
THE FOGO ISLAND INN

Delegates will be asked to vote for your favorite dish using our official event app, Whova. The winner will receive:
Three (3) nights at Fogo Island Inn; with all meals included (excluding alcohol); all excursions; one (1) commercial return flight in economy class from Toronto, Ontario to Gander, Newfoundland and ground transfers between Gander Airport and Fogo island (approx. value $7,750 CAD).
No travel to and from Toronto or expenses to stay in Toronto will be covered by Terroir. Chefs are responsible for any/all travel expenses to participate.

POP-UP CHOCOLATE BREAKS
PRESENTED BY CACAO BARRY