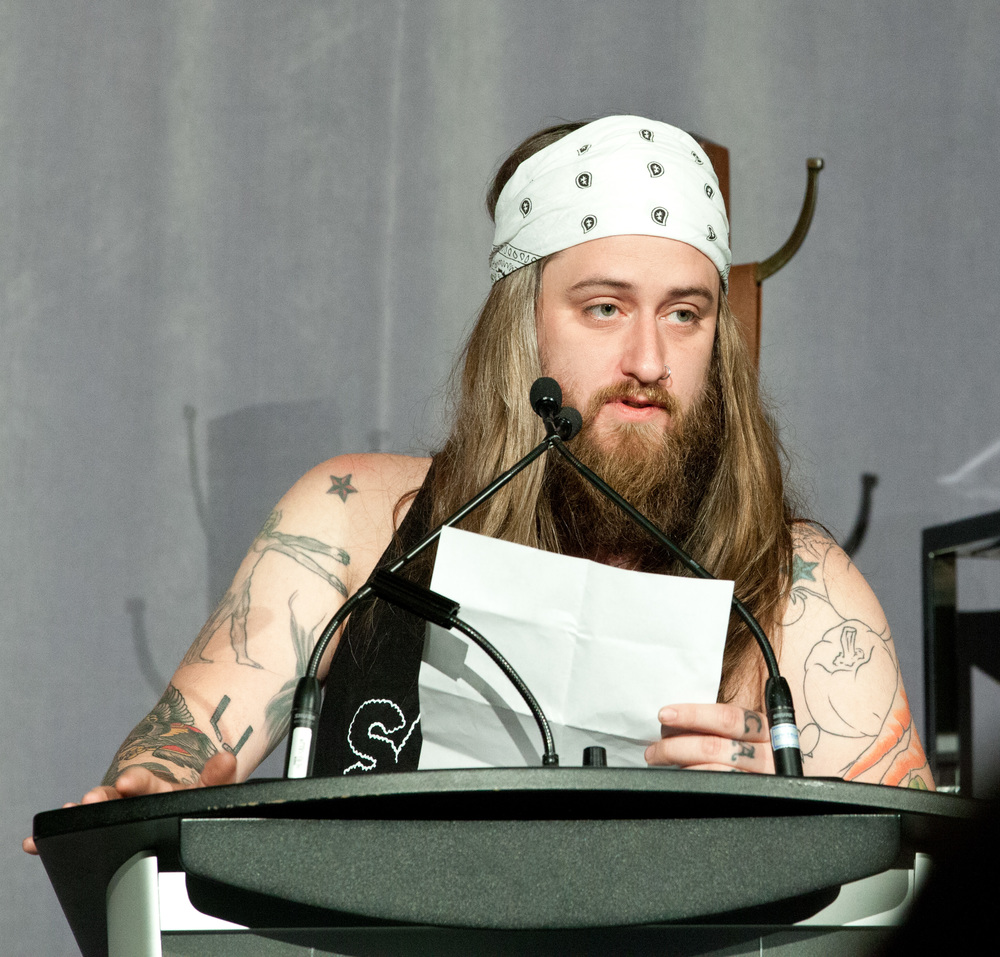 THE THEME : PIONEERING CHANGE
What does it mean to be a pioneer? How can we enact real change? Those were two of the main themes discussed this year at Terroir and we also asked our audience to participate with us, using the #dugnad, following the incredible Nordic tradition, a day of giving back. We heard stories about promoting social responsibility through workers' rights, from Jair Tellez, and promoting equality and open dialogue through ice cream, from Douglas Quint and Bryan Petroff. Mark McEwan challenged the media mold when he discussed with Connie Desousa a smarter, more engaging food TV program and Kimi Werner made us reimagine what the word 'predator' meant when she shared her break taking stories of underwater spearfishing dreams.
Discussions Included
Stranger in a Strange Land – Raising the Bar by Giving Back – I am not Mark Zuckerberg: Why the Food Movement Doesn't Work like a Start-up - Viva la Revolucion! –What can we do for you? A Sustaining Food Economy and the Model Eater – Northern Lights, Making Waves from the Edge of the Earth – Don't Shoot the Photographer – the Dorito Effect – Welcome to the Jungle : Off the Grid in Tulum – Hawksmoor and the Thing my 4-Year Old Knows about Beef – Under the Sea: the Hunters Connection – Beyond the Kitchen : Cooking Up Change – Top 5 Industry Survival Tips – A Terroir of One's Own – The Flavours we Choose, the Journeys We Take, the Plates we Make – 100 New Scottish Foods – Michelin Mavin – Designing Dessert: at the Heart of the Meal – Nasa and the Future of Fish – Are we Living in a Material World? Changing Food TV – You can Tweet if you want to – Notes on Our (Accidental) Political Agenda
List of Presenters
Ian Brown, Author and Roving Reporter, Globe and Mail, Toronto, Gavin Kaysen, Chef & Owner, Spoon & Stable, MPLS, Sarah Weiner, Founder, Good Food Awards, San Francisco, Jair Téllez, Chef & Owner, MeroToro, Mexico City & Laja, Baja, Yaron Milgrom, Owner, Local Mission Market, Local Mission Eatery, Local Cellar, San Francisco, Lindis Sloan, Anthropologist and Community developer, Steigen, Norway, Zita Cobb, Founding Innkeeper of Fogo Island Inn and President of the Shorefast Foundation, Fogo Island, Newfoundland, Anton Sucksdorff, Photographer, Helsinki, Finland, Mark Schatzker, Author and Food Writer, Toronto, Eric Werner, chef, Hartwood Tulum, Mexico, Brad Long, Executive Chef & Owner, Belong Café, Will Beckett, Co-founder Hawksmoor Restaurant Chain, London, UK, Kimi Werner, US National Spearfishing Champion, Chef, and Artist, Christine Aziz, Spoken Word Artist, Jean-François Archambault, CEO and Founder, La Tablée Des Chefs, Montreal, David Hawksworth, Chef-Owner, Hawksworth, Vancouver, Ned Bell, Founder, Chefs for Oceans, Executive Chef, YEW, Four Seasons, Vancouver, in conversation with Alison Fryer, Professor, George Brown College & Special Events, Advisor and Speaker, Dr. J. Charles Grieco, Chair & President, Ontario Hostelry Institute, Stuart Pigott, Wine Critic and Author, Wine Far Away, New York, USA, Introduction by Jamie Drummond, Trevor Lui, Co-Founder, Kanpai Snack Bar and La Brea Food, Ben Reade, Founder, Scratch Series, Edinburgh, Scotland, Dominique Crenn, Chef & Restaurateur, Atelier Crenn, San Francisco, in conversation with Marie Claude Lortie, La Presse, Montreal, Farzam Fallah, Pastry Chef, Richmond Station, Antonio Park, Chef, Park Restaurant & Lavanderia, Montreal, Mark McEwan, Chef-Owner, The McEwan Group, and Television Personality, Toronto, Francis Lam, Editor at Clarkson Potter, Judge on Top Chef Masters, Columnist at the NYT Magazine, New York, USA, Helen Hollyman, Editor-in-Chief, Munchies, VICE.com, New York, USA, In conversation with Pay Chen, TV & Radio host, Douglas Quint & Bryan Petroff, Co-owners & Co-founders, Big Gay Ice Cream, New York City
Concurrent Sessions
Foraged products with Jason Bangerter and Mario Muniz, Sushi with Antonio Park,the Marriage of Nova Scotia's Terroir and Merroir with Peter Gamble, Michelle and Trevor Munroe, and Martin Ruiz Salvador, Taste of Newfoundland with Katie Hayes and Adam Blanchard.
A Gamay Masterclass: The Next Little Thing? With winemaker Shiraz Mottiar, winemaker Guillame de Castleneau, chief Winemaker/Director, Louis Jadot Beaujolais, Vigneron Martin Malivoire, wine writer/Sommelier Bill Zacharkiw with moderator: wine writer Chris Waters, A Different Look At Terroir: How Much Do Soils Actually Matter? With Stuart Pigott, wine critic & author, Dr. Kevin Pogue Ph.D, Dr. Jim Willwerth Phd., winemaker Emma Garner, with moderator Wine writer & sommelier Sara d'Amato "The Clone Wars": What Do Different Clones Bring To The Glass & Why? With Dr. Kevin Pogue Ph.D, Dr. Jim Willwerth Phd., winemaker Angelo Pavan, winemaker Jay Johnston